As you prepare to purchase a home for sale in or
near Castle Rock
, Colorado, you're probably thinking about a ton of different factors, like:
Where is the home?

What is the cost of utilities?

What are the nearby schools like?

How far are you from stores and churches?

What is the neighborhood like?

What is the house like?
These are probably only a few of the questions running through your head. And while each of these questions about Castle Rock real estate is important in its own way, there are a few questions that are absolutely crucial to choosing the perfect home for you and your family.
Let's consider the most important factors you should be considering in your home search in Castle Rock, Colorado. Even if you can't get absolutely everything you want, you must ensure that these factors satisfy the needs of you and your loved ones.
1. Location
You've probably already guessed the first crucial factor: location, location, location! It's never far from anyone's mind, whether they're in a location they love or a location they're desperate to escape. Location is probably the most important factor for determining whether you'll love a home.
According to the
latest research
from the National Association of REALTORS (NAR), many homeowners these days are moving to more rural settings as opposed to urban settings. If you're like many homeowners in America, you may be looking for a quieter space to raise your kids or settle down for retirement.
Regardless, there are a few important aspects of the location to keep in mind.
Schools. If you have kids, you want to make sure that you are located near good schools. A website like

greatschools.org

can help you determine what schools are the best in terms of education and teacher-student support.

Commute. Do you mind a long commute to work every day? Do you need to take public transportation? Do you want to avoid as much traffic as possible? These are things to keep in mind as you decide on a location in reference to where you work.



Proximity to town. Do you want to live near restaurants, shops, and medical institutions? Or are you more interested in escaping the hustle and bustle of town life and want something a little more rural?



Neighborhood. Are you okay with a busy neighborhood, or do you want something quieter and more enjoyable for kids? Do you like neighborhood amenities like parks and pools or would you prefer to live at a distance from your neighbors?
Before making any purchasing decision, take the time to carefully consider the location and decide whether it will work for your family.
2. Pricing
You'll need to consider how much you have to spend before you purchase a home. While you should certainly spend enough to get the house you want and need, you don't want to get out of your comfort zone or you'll regret it in years to come.
On average, you can expect to spend
around 16% to 20%
of your monthly income on your house payments. However, the exact amount you're going to spend will depend on the amount of your downpayment, how much of a loan you took out, and how much your home cost.
It's crucial that you carefully consider how much you can spend comfortably on a monthly basis to maintain your home. You need to choose a home that meets your income level and fulfills your desires for comfortable living. It may seem difficult, but it's really not that hard if you have a little help finding the right spot.
Closely related to pricing, you want to take into account property taxes and monthly utilities. Ask your real estate agent how much you can expect to pay for these additional costs each month. If you don't want to spend that much on monthly payments, you shouldn't purchase the home.
3. Features
There's a lot to think about when it comes to choosing the features you want in your home. It will depend on how many people are going to live there, how many of those people are children, how much time you'll actually spend at home, etc.
Obviously, like all other people, you will have aesthetic preferences. Some people may prefer an older home with a vintage look and an extra dose of "character." Others like newer homes with spacious layouts and low-maintenance amenities.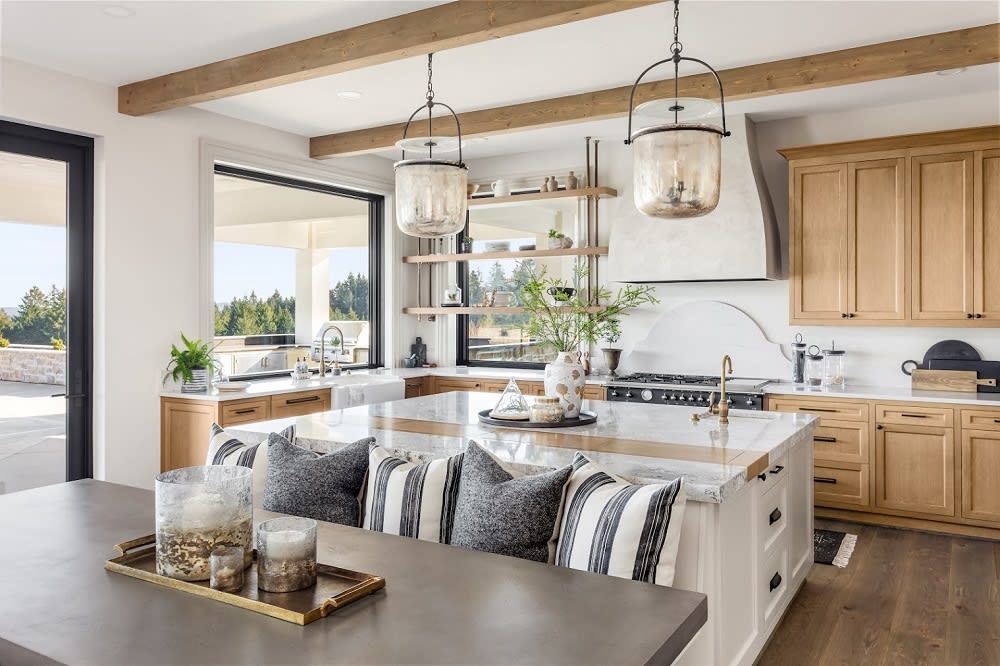 More important than how your house looks is how it performs to take care of your family. Some of the most important things to think about include:
The kitchen layout. If you're going to spend a lot of time in the kitchen, which is likely if you have kids or if you enjoy entertaining guests, you'll want a kitchen with a spacious layout, lots of storage space, and new appliances.



The number of bathrooms. If you have lots of kids, you want at least two bathrooms and preferably three or four. If it's just you or you and a significant other, you may be able to get by with one or two.



Upkeep. Older homes naturally require more upkeep. If you're looking at a home with an outdated heating and cooling features, old plumbing, and a decaying roof, you may want to think twice about your purchase. Unless you have the money to fix it up, you probably want to steer clear of a home that will take a lot of maintenance money.



Lot size. Again, if you have kids, you probably want a spacious yard for them to spend time in. Plus, if you enjoy entertaining guests, you may want a patio space or fire pit so that you can host parties outdoors during the warmer months.
Of course, there are plenty of other features to think about. We could go on all day considering the various home amenities that make up your dream house! However, these are the most crucial and even if you sacrifice on others, you should ensure that these meet your expectations (or at least that you're able to compromise on without a huge strain).
4. The Future
It may seem ridiculous to think about the day when you're going to resell your home, but, in truth, it's really quite important. If you don't think about it now, you're going to regret it later when you want to
get the most out of your home
and find it's going to be more difficult than you thought.
When you're looking at a home, consider its potential resale value. Is it going to be easy to maintain or remodel? Are property taxes going to remain reasonable? Is the neighborhood going to remain popular for years to come?
Most homeowners move every five to ten years. Even though you may not think it now, all kinds of things can happen during that time. You may have more kids and need more space. Or, your kids may grow up and move out, leaving you with extra space. Regardless, you'll want to consider that you will probably not be staying in this home forever.
You'll want to discuss resale factors with your real estate agent before you make the decision to purchase a home. It's important that when, in five or ten years, you find you need to sell and move again, you know your home is going to be worth something to the buyers around at that time.
Choosing the Right Castle Rock Home
There are tons of gorgeous homes for sale in Castle Rock, Colorado. This
small but luxurious community
is one of the best places to live in Colorado—or the United States, for that matter. With gorgeous views of the Rockies and a charming small-town appeal, Castle Rock is definitely a place that can satisfy your desire for a great location.
When you're ready to purchase a home, make sure that you seek out expert help and go out to see your homes in person. You don't want to reach a decision by simply viewing an online listing and making guesses on the neighborhood and property taxes.
Speak with a real estate agent from Castle Rock to figure out what homes best meet your needs. Then, go and take a look! Driving around the neighborhood and surrounding areas is important so that you can determine if you'll like living in that location and be okay with the commute and proximity to various amenities.
The team at MC2 Properties is here to help. No matter what you need in the way of real estate expertise, we want to be there for you. We can help you map out the location, determine your price range, choose your top home features, and consider the future.
When you're ready to choose the perfect home for your family in Castle Rock, Colorado, don't hesitate to
reach out
to Joy and Brian McWilliams for guidance. We can't wait to get you settled in the home of your dreams!